More than 100 years of competence
Our customers value Heuschkel because of our competence and passion for aluminium and zinc die casting.
Today, more than 85 employees manufacture precision die cast parts from aluminium and zinc, from the simple die cast part up to the finished and assembled part ready for installation. The moulds, deburring tools and appliances required for this purpose are developed and manufactured internally. The foundation for this was laid more than 100 years ago:
1911
The engineer Max Heuschkel, born on 2 March 1861 in Sonneberg, founds southern Germany's first special factory for injection moulding.
It is only the fourth one in the empire – "Max Heuschkel, Workshops for Precision Mechanics and Die Casting". He started out in Nuremberg, Singerstraße 4, with zinc and lead alloys and with a technical novelty: injection moulding machines, built by himself. His decision to set up his own business had a decisive influence on the fast growth of an independent industry, which later gave its process engineering a new name: "die casting".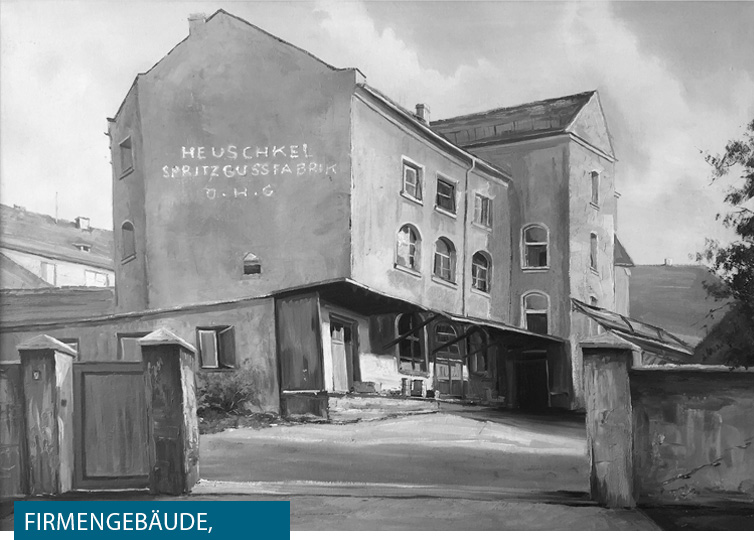 1914: First attempts to process zinc with self-produced alloys
1939/1940: The machining of aluminium is added.
1950's: The aluminium production gains more and more importance.

1994: The company founder's son-in-law, Günter Rauch, hands over the management to his sons Joachim Rauch and Rainer Rauch. They take over the responsibility for the company in the 4th generation.
2001: Certification according to DIN EN ISO 9001
2006: Expansion of CNC machining
2011: Expansion by two additional machining centres and an ECM deburring machine
Today
From the mechanical jobbing foundry to the professional industrial enterprise
Heuschkel invests massively in quality and know-how. Employees with many years of foundry experience strengthen the team and carry on Max Heuschkel's passion and competence by supporting customers proactively and being acknowledged as problem-solvers for any questions related to casting.
2015: Heuschkel renews its ISO 9001 certificate without any problems
2016: Heuschkel is certified according to TS16949:2009 without problems.